Take-off page for GNSS websites from EPOS Project
What is EPOS for…
The European Plate Observing System (EPOS) simplifies the integrated use of data, data products, and facilities from distributed research infrastructures for Solid Earth Science in Europe.
TCS GNSS Data and Products
The mission of the GNSS Thematic Core Service (TCS) is to provide, through the European Plate Observing System (EPOS), access to GNSS data, metadata, products, and software in support of the Solid Earth Sciences. To achieve this goal, EPOS GNSS:
facilitates access to relevant and validated GNSS data, metadata, and data products
coordinates the archiving of relevant GNSS data, metadata and data products
promotes best practice for GNSS station operation, data quality control and data management
maintains and distributes open source software for GNSS data, metadata and product discoverability
maintains and develops GNSS data products
These efforts are done in close partnership with the geodetic GNSS community represented by EUREF, the IAG sub-commission for the European Reference Frame.
Open source platform GLASS – The EPOS Thematic Core Service GNSS Data and Products has developed an open source platform, called GLASS, to store and disseminate data and metadata from GNSS stations operating in Europe. In collaboration with EUREF, various GLASS nodes are linked together to provide a single point of access through web portals to: validated GNSS station metadata, the GNSS data itself and derived GNSS products such as position time series, velocities and strain rate maps.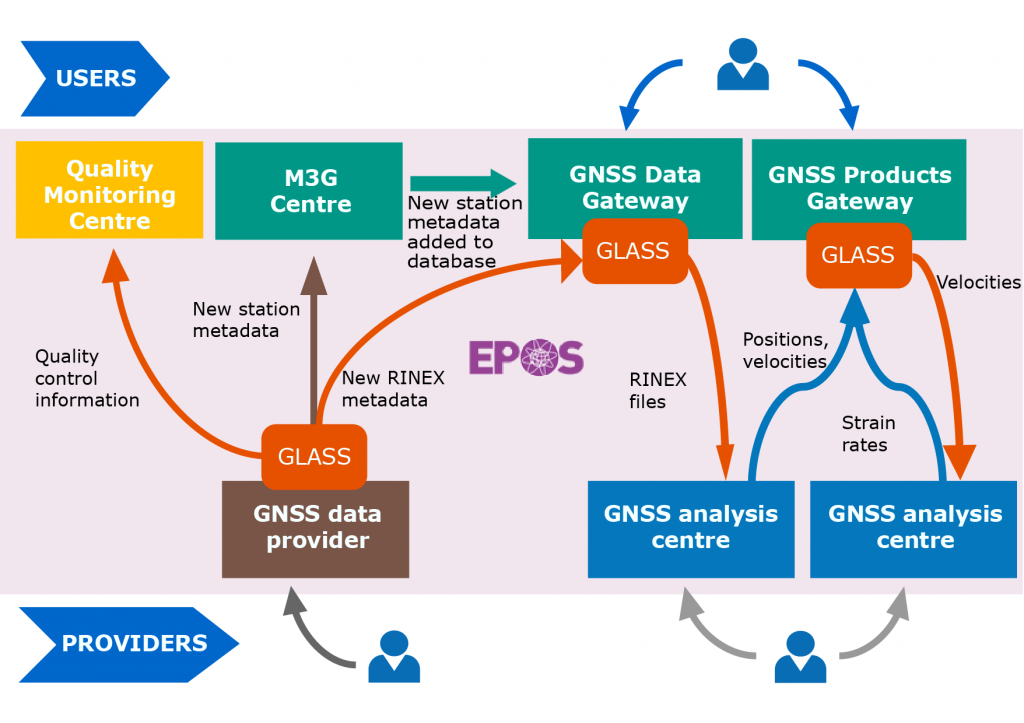 GNSS Portals
a new way of accessing GNSS data and products for Solid Earth Science researchers